Prime Minister Nguyen Xuan Phuc urges the science and technology sector to do more for the country's development when he yesterday chaired an online meeting themed "Science and Technology serves socioeconomic development".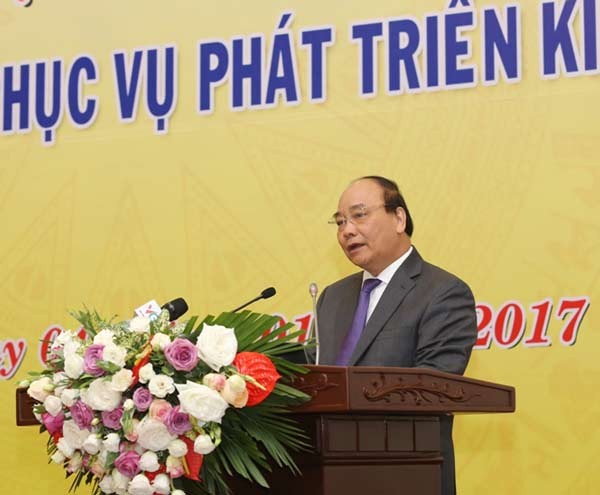 PM Nguyen Xuan Phuc speaks at the meeting (Photo: SGGP)
Speaking at the meeting held by the Ministry of Science and Technology, PM Phuc highly lauded the sector's achievements for the socioeconomic growth last time. Of these, Vietnam ranked the 100th in economic development and was listed the 59th globally in terms of the Global Innovation Index and the country's competitiveness posted 56 and its technological readiness index ranked 92 out of 140 nations and territories across over the world.

The PM asserted its weakness in technology is due to the government's policy and mechanism, adding that however very few of technology projects are applied in reality while many researches have been done. Accordingly, the investment in the sector will prioritize for practical projects for serving the country.
To develop the sector successfully, the PM emphasized six key factors including institutions, mechanisms; human resources; financial resource; infrastructure; integration capacity; and the State management capacity.

Of them, the government's policies and mechanisms play a vital role in encouraging talented people in and outside nation to contribute to the country's growth. The PM asserted to receive and welcome the scientists who want to devote to the country's development.

The PM urged the sector to promote the international integration; encourage businesspersons to invest in the technology industry and the government will resolve difficulties in mechanisms. He ordered the Ministry of Science and Technology and relevant agencies to listen to enterprises to help them.
"It needs to have good cooperation between the scientists, the government and businesspersons", the PM added.