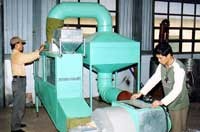 Staff of the Post-Harvest Technology Institute installs a new machine for processing high-quality fruit and vegetables.
The Hoa Binh Techmart 2006 is open in the northern mountainous province of Hoa Binh from May 18.
The techmart aims to foster technological application in both production and everyday life activities; to support businesses in technological reforms and competitiveness improvements; to establish and to develop technological market in the northern mountainous provinces.
One hundred and forty five enterprises with 174 pavilions in Hoa Binh Techmart 2006 showcased 719 products, related to technologies, devices, software solutions and IT services.
After the opening, seven IT transfer contracts, worth more than US$3,125,000, were signed. The Techmart is being jointly organised by the Ministry of Science and Technology, the People's Committees of Hoa Binh and Hanoi.