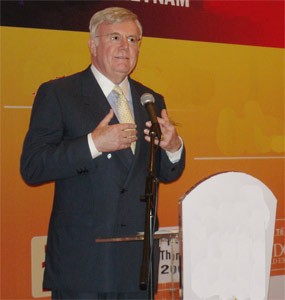 Mr. Patrick McGovern, Chairman of the IDG (International Data Group) which holds Tuesday's Indochina Conference with in cooperation with the Ministry of Post and Telematics in Ha Noi. (Photo: Hoang Uy)
The 2nd CIO (Chief Information Officer) Indochina Conference and Awards in Hanoi Tuesday honored seven top CIOs in Indochina in terms of their contributions to IT development.
The Viet Nam IDG (International Data Group) and the Ministry of Post and Telematics cooperatively held the event that honored six Vietnamese CIOs.
The event aims to promote and extol the importance of CIOs, especially as Viet Nam is going to enter the WTO (World Trade Organization) this year and high managerial positions will become increasingly vital to the nation.
The CIO award is an acknowledgement of improvement on business performance and overall management, but most importantly the CIOs' creativeness, improvement, reform and optimization of IT applications in their company's operation were the key factors in choosing the top IT leaders to be honored.
On the occasion, the 10 best IT products selected by more than 1,200 CIOs and CEOs were also announced.
Seven excellent Indochina CIOs:
-Mr. Dao Minh Tuan, director of the Computer Center of Vietnam Commercial Bank (VCB)
-Ms. Truong Thi Hai Duong, director of the Computer and Statistics Center under the General Department of Taxation
-Mr. Dinh Quang Nuong, vice chief executive officer of the Department of Insurance Trading and Information Technology under Prudential Viet Nam;
-Mr. Nguyen Anh Nguyen, planning and IT manager of the Unilever Company
-Mr. Phan Vinh Quang, director of the IT Center under the VietsoPetro Informatics
-Mr. Le Vu Ky, vice general director of the Asia Commercial Bank
-Mr. Moa Chakrya, vice director of the Cambodia Telecom.