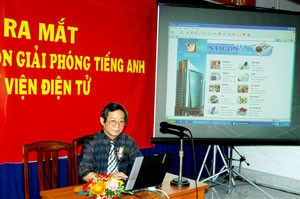 Mr. Duong Trong Dat presses the button to launch the e-library (Photo: TB)
On May 5, 2006, the Sai Gon Giai Phong Daily Newspaper's electronic library officially made its debut. Interested readers can log into the e-library at http://thuvien.sggp.org.vn or http://thuviensggp.sggp.org.vn.
Mr. Duong Trong Dat, Editor-in-Chief of the SGGP Newspaper, attended the opening ceremony and pressed the button to launch the e-library's website.
Aiming at shortening the distance between its readers and information source, the SGGP Newspaper's traditional library had been gradually upgraded since August 2005 into a modern e-library, which can provide users with more accurate and easier references.
Thanks to the e-library's networked computer systems, visitors, especially press reporters in remote provinces, can have on-the-spot access to the library's electronic databases including documents, audio and video files, etc. Also, they can make their own contributions to enrich the collection.
Besides, the e-library offers visitors various online services including online information service and instruction on information searching.