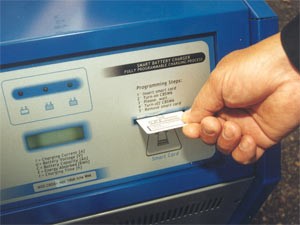 More Vietnamese people use smart card these days for its

convenience

. 
Over 90% of the Vietnamese people considered smart card to have more functions than other types of electronic card, 70% believed that smart card would set off a revolution in payment terms and 60% acknowledged the card's technical superiority, said the "Heart Smart" survey recently made by the Visa Group in Asian-Pacific region.
These figures have proved a current formation of real smart card demand in the Vietnamese market although only one year ago the new technology was still very unfamiliar to most Vietnamese,
According to Peter Manners, Head of Chip in the Visa Asian-Pacific Region, Vietnamese consumers favor smart card simply because of their pressing and necessary requirement of the e-transaction security.
Microprocessor chip embedded in the smart card, as a PC, proves to be very functional in various transaction services including anti-transaction fraud, user' identification, health care information, etc…
The Industrial and Commercial Bank of Viet Nam (Incombank) and Saigon Commercial Bank (Sacombank) are ahead in the smart card application in the Vietnamese market, saying that they will install about 4,400 smart card-accepting devices in the entire country.
Late 2006, most transaction counters in Viet Nam will be ready for carrying out smart card services and bracing for a major boom in smart cards in 2007.
Although the investment in smart card installation is not a small sum, many suppliers have standardized their electronic chip in a bid to reduce the spending on cards and accepting devices by 50%. Currently, the production cost of a smart card is only about 8.9 cent, compared with US$3 last year.
Compared with others in foreign countries, Vietnamese banks would save a lot of money in investment cost if their magnetic cards are converted into smart ones, said an expert of the Visa Group in the Asian-Pacific region.
A smart card is a card that is embedded with either a microprocessor and a memory chip or only a memory chip with non-programmable logic. The microprocessor card can add, delete, and otherwise manipulate information on the card, while a memory-chip card (for example, pre-paid phone cards) can only undertake a pre-defined operation.
Smart cards, unlike magnetic stripe cards, can carry all necessary functions and information on the card. Therefore, they do not require access to remote databases at the time of the transaction.
Today, there are three categories of smart cards, all of which are evolving rapidly into new markets and applications:
Integrated Circuit (IC) Microprocessor Cards: Microprocessor cards (also generally referred to by the industry as "chip cards") offer greater memory storage and security of data than a traditional magnetic stripe card. Chip cards also can process data on the card. The current generation of chip cards has an eight-bit processor, 16KB read-only memory, and 512 bytes of random-access memory. These cards are used for variety applications, especially those that have cryptography built in, which requires manipulation of large numbers. Thus, chip cards have been the main platform for cards that hold a secure digital identity. Some examples of these cards are:
Cards that hold money ("stored value cards")

Card that hold money equivalents (for example, "affinity cards)

Cards that provide secure access to a network

Cards that secure cellular phones from fraud

Cards that allow set-top boxes on televisions to remain secure from piracy
Integrated Circuit (IC) Memory Cards: IC memory cards can hold up to 1-4 KB of data, but have no processor on the card with which to manipulate that data. Thus, they are dependent on the card reader (also known as the card-accepting device) for their processing and are suitable for uses where the card performs a fixed operation.
Memory cards represent the bulk of the 600 million smart cards sold last year, primarily for pre-paid, disposable-card applications like pre-paid phone cards. Memory cards are popular as high-security alternatives to magnetic stripe cards.
Optical Memory Cards: Optical memory cards look like a card with a piece of a CD glued on top - which is basically what they are. Optical memory cards can store up to 4 MB of data. But once written, the data cannot be changed or removed. Thus, this type of card is ideal for record keeping - for example medical files, driving records, or travel histories. Today, these cards have no processor in them (although this is coming in the near future). While the cards are comparable in price to chip cards, the card readers use non-standard protocols and are expensive.
(Source: Sun Developer Network http://developers.sun.com/index.html)