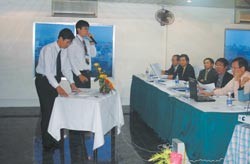 (Photo: SGGP)
The competition "Sony Green Invention" in 2005 comprises 2 sections: Multi-Media Application Products for promoting the public awareness of environment protection in community and Solutions for clean agricultural and industrial production.
Reportedly, this competition attracted 90 students with 31 subjects. Most of them came from Ho Chi Minh City, Hue, Ha Noi and provinces in the highland.
The first prize was given to Pham Ngoc Tuan Anh (student of Ho Chi Minh City University of Technology) with the subject "Software for Green Planet Hero Competition".
This software was highly appreciated for its friendly interface, careful research and easy operation. With this convenient product, the children can find out the environment in the form of playing and learning and teachers can check their students' knowledge.
Student Nguyen Tuan Vu (from Can Tho University) won the second prize with the subject "Reagent of Green Age". Vu succeeded in finding sap in banana tree as reagent measuring concentration of alum and iron in water.
The three third prizes were given to competitors from Ho Chi Minh City Teachers' Training University, Ho Chi Minh City Science and Nature University and Can Tho University.
"Sony Green Invention" is held by Viet Nam Sony Electronics Company, Ministry of Education and Training in conjunction with Ministry of Natural Resources and Environment, aiming at encouraging new solutions for environment from students.