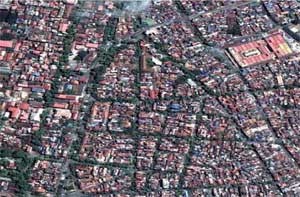 Satellite view of Ha Noi
The Vietnamese Academy of Science and Technology (VAST) has finalized a plan to establish the Viet Nam Space Commission and the Space Technology Institute.
The plan is now waiting for assessment by various ministries, after which it will be submitted to the Prime Minister for approval.
Professor Tran Manh Tuan, director of the Coordination Center for Space Technology Applications (CCSTA), said the new organizations would provide a legal foundation for speeding up the study and application of space technologies.
The Viet Nam Space Commission will help the Prime Minister to co-ordinate activities covered by the "Strategy for research and applications of space technology by 2020".
The Commission will act on behalf of Viet Nam in international space-related activities.
The Minister of Science and Technology will chair the Commission, and the chairman of VAST will be the Standing Vice Chairman. The Viet Nam Space Commission will be part of VAST.
Also a part of VAST, the Space Technology Institute will study space technology, small satellite technology research and development, and implement projects of the ICT key laboratory.
In addition, VAST will seek the Government's permission to buy the technology for making small satellites from abroad. Then it will be self-sufficient in producing small satellites, Professor Tuan said.
Back in 2001, VAST submitted to the Prime Minister a pre-feasibility study for a small disaster-monitoring satellite, but it will not be started until the "Strategy for research and applications of Space Technology" has been approved.