Space Shuttle Discovery has undocked from the International Space Station and is moving away in preparation for a return to Earth on Monday.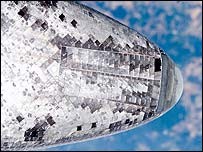 The astronauts will conduct a final check of the heat shield
Six astronauts are on board, after German astronaut Thomas Reiter was left behind for a six-month ISS stay.
Before re-entry Discovery's team will conduct a final scan of the craft's heat shield to check for impact damage.
It will stay just 46 miles (74km) from the ISS until the scan is done so it can return if serious damage is found.
The shuttle is scheduled to land at Nasa's Kennedy Space Center in Cape Canaveral, Florida, on Monday.
The mission is just the second to be carried out since the space shuttle Columbia broke up on re-entry into the Earth's atmosphere in January 2003, killing all seven crew on board.
The heat shield scan will done with the same laser and camera system which was used to check for possible damage from flying debris during launch earlier in the flight.
In this instance it will check for micrometeoroid impacts which could have occurred during the stint in space.
The post-launch inspection found no damage and the astronauts are confident that this will be the case again.
"We've been flying space shuttles for a long time and we've never had any kind of critical damage from a micrometeoroid so it's pretty remote," pilot Mark Kelly said
"Based on what we've seen over the last 10 days, the inspections we've done... we've got a great ship. It's ready to come home," he added.
The nine-day mission has included three spacewalks and repairs vital to resuming building work on the ISS.

(Source: BBC)