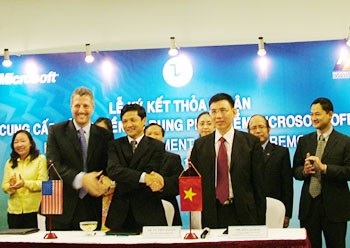 From left to right, Chris Atkinson, CEO of Microsoft's Southeast Asia Branch, shakes hands with representatives from FPT and VCB at the signing ceremony.
Staff at the Bank for Foreign Trade of Viet Nam (VCB), one of the biggest State-owned banks in Viet Nam, can now use the genuine MS Office 2003 at their office and home, according to an agreement between VCB and Microsoft on Monday.
VCB will possess 4,000 perpetually licensed certificates for Microsoft Office 2003 and can upgrade to the new versions over the next three years.
FPT, the official distributor of Microsoft in Viet Nam, will provide the software program and updates for VCB.
Following the Ministry of Finance who bought 15,000 licensed copies of MS Office 2003 in April of this year, VCB becomes the first Vietnamese enterprise to use licensed software for its computer network.