Nine outstanding information technology (IT) managers received recognition Wednesday at the Chief Information Officer Conference & Awards in Ha Noi.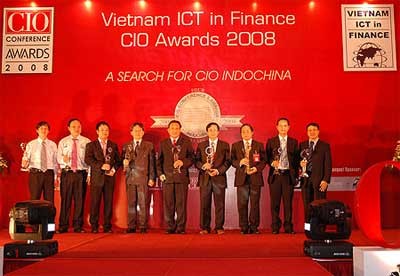 Nine outstanding CIOs receive the awards.
The conference gives tech managers the opportunity to share information about the market, which can help businesses define their orientation and improve the quality of their products.
The conference used the themed "Transforming business into innovation."

It is the fourth time this annual event has been held. It is organized by the International Data Group (IDG Vietnam) and CEO & CIO Club at Meliá Hotel.

Nine outstanding CIOs:
1. Major-General Dong Dai Loc, director and head of the IT Steering Board of Thanh Hoa Province's Police.
2. Mr. Ho Quang Thanh, director and deputy head of the Standing IT Steering Board of Nghe An Province's Department of Information and Communications.
3. Mr. Le Xuan Vu, deputy managing director and director of the IT Department of Techcombank.
4. Mr. Nguyen Dai Tri, director of the IT Center and Statistics Department of the State Treasury under the Ministry of Finance.
5. Mr. Nguyen Xuan Phi, chairman and head of the Steering Committee for Administrative Reform of Ngo Quyen District in Hai Phong City.
6. Pham Anh Tuan, deputy managing director and director of the IT Department of VietinBank.
7. Phi Quang Hung, IT director of PetroVietnam Drilling and Well Services Joint Stock Co.
8. Tong Viet Trung, deputy managing director of Viettel.
9. Vu Duy Loi, director of IT Center and Deputy Secretary of IT Steering Board for Party Agencies under the Party Central Office.