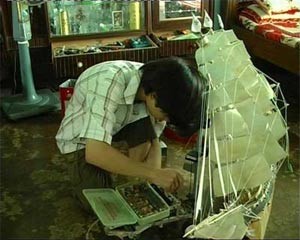 Ka Li Sa is engaged in assembling his "Canon Robocon"
Ka Li Sa, a junior high school student from the central province of Quang Nam was one of the winners of Viet Nam's prestigious creative technology contest for teens, called VIFOTEC.
His brainchild robotic design, titled "Canon Robocon" was also recognized as one of the top 15 inventions to be selected at an international creative technology exhibition in India this year.
"Canon Robocon is my handmade robot. It is a remote-controlled toy robot equipped with a range-adjustable canon that can shoot small plastic balls. With this toy, I envisioned creating a two-player competition where the winner is determined by who can hit whose robot first." Ka Li Sa recounted.
The idea of making this robot appealed to Ka Li Sa over one year ago. However, it took the teenage inventor about a year to find gears suitable enough to design the toy robot.
At the beginning, he created remote-controlled cars equipped with tools for picking up or shooting balls. To construct these prototypes Ka Li Sa used electrical parts from secondhand video gaming systems, radios, cassettes, and cash registers.
Ka Li Sa often had to spend his weekends in the Tam Ky District, 40 km from his Bac Tra My highland district, scouring stores for scrap materials from old electric appliances to complete construction of "Canon Robocon".
His father, Ka Van Xuan, says Ka Li Sa is a robot addict who has yet to miss a televised contests involving robots.
Sa is such a robot enthusiast that during his last holiday from school he pleaded with his parent to let him be an assistant in one of the qualifying rounds of the nationwide Robocon Contest in the central province of Da Nang.
The talented junior high school student also revealed after the contest that he has been at work on his next project, constructing a robot with the ability to walk.