The Ministry of Education and Training announced on June 15 that three Vietnamese teams will compete in the Shell Eco-Marathon (SEM) Asia 2011 to be held in Kuala Lumpur in Malaysia from July 6-9.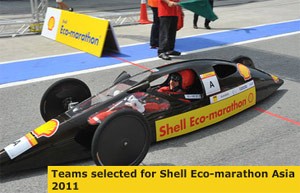 for illustration only. (Photo: Shell)
The three teams, namely 'Ice Hust' from the Hanoi University of Science and Technology, 'BK Auto 07' from the Ho Chi Minh City University of Technology and 'Mechanical' from the University of Transport and Communications, will participate in the event for the first time.
The teams have successfully passed the technical design qualifying round that took place late last year.
A representative from the ministry said that the event was launched in universities and colleges across the country last year. The race encourages students to study and apply advanced technology in use of energy and alternative fuel as well as environmental protection.
SEM Asia 2011 draws 109 teams from 13 countries namely, India, Brunei, Taiwan (China), Indonesia, Iran, Malaysia, Japan, Pakistan, Philippines, Singapore, China, Thailand and Vietnam.
The Shell Eco-marathon began in 1939 at a Shell research laboratory in the United States as a friendly wager between scientists to see who could get the most mileage per gallon from their vehicles.

It is now a competition for students throughout the world to design fuel efficient automobiles, thus encouraging young people to adopt fuel efficiency, energy saving and renewable energy for environmental protection in context of the world facing an increasing energy shortage.