The Science and Technology Journalists' Club in Hanoi yesterday announced Vietnam's top 10 science and technology events in 2016.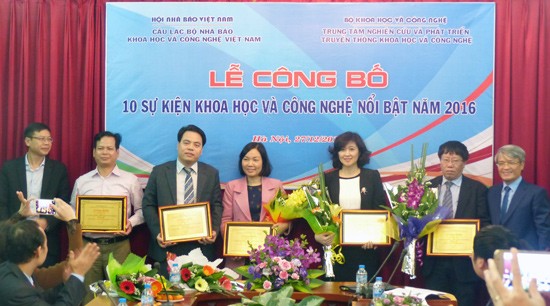 At the ceremony to announce ten top events of science and technology 2016 (Photo: SGGP)
The events are chosen based on mechanisms and policy, social sciences and humanities, fundamental research, applied research, international co-operation and honoring scientists

1. Issuance of decree on policies related to scientific and technological activities. The decree aims to improve the quality of growth, labor productivity, and competition. The decree says clear that the government has put science and technology transfer on top priority as it plays a role as incentive for productivity, quality and competition.

The government will strive to raise enterprises' technology absorbance and creativeness as well as encourage enterprises to partake in research and technological transfer.
In its document, the National Assembly's Standing Committee November 2, 2016, issued a decree to promote effectiveness of policies and regulations of science and technology development for the period 2015 – 2020 in which the government will focus on supporting industry and mechanics.

2. Project "The National Program to Support Innovative Startup Ecosystem in Vietnam by the year 2025" has been approved by The Prime Minister.

The aim of the project is to create a favorable environment to promote and support the formation and development of startups with high-growth potential based on new technology or business models. 

3. Tran Dai Nghia Award was  presented to scientists
The Vietnam Academy of Science and Technology September 11 in Hanoi organized a ceremony to give annual Tran Dai Nghia Award, named after late major-general and academician Tran Dai Nghia, for the very first time to honor scientists for contributions of great significance towards applied scientific circles.

This year, the organizer has received 15 entries in the field science of information, science of computer, chemistry and science and life.

4. The 5th International Conference on Vietnam Studies (ICVNS2016) hosted by Vietnam National University, Hanoi (VNU) will be held in Hanoi from December 15-16. the conference centered six fields including diplomatic, cooperation and international integration, education and personnel growth, knowledge and technology transfer and climate change.

5. Vestiges of an ancient community discovered in in An Khe Town in the Central Highlands province of Gia Lai.
Five of vestiges of Stone Age were discovered by a group of archeologists from the Vietnam Institute of Archeology in year-end of 2014 and the excavation continued in 2015 and 2016.

6. Major science and technology program for the period 2011-2015 greatly contributed to the country's socioeconomic growth.

7. Vietnam can produce measles-rubella vaccine
The Center for Research and Production of Vaccines and Biology under the Ministry of Health announced the successful test of measles-rubella vaccine, making Vietnam to be one of 25 countries worldwide that can produce the vaccine and the fourth in Asia after Japan, India and China.

The vaccine will be given to the children free of charge through the National Expanded Immunization Program in 2017.
8. Technology map and road map in rice production
Relevant agencies have worked out plan to build technology map and road map for some sectors including rice seed selection and research to produce rice seedlings which can withstand salty water in the Mekong delta as per the program to renovate the national technology with the vision to 2020.
9. Successful manufacture of Plasma
After four year research, Dr. Do Hoang Tung and his partners succeeded in inventing PlasmaMed with Gliding arc plasma - GAP). The machine was tested in big hospitals, Dr. Tung and his partners were granted certificate of circulation registration by the Ministry of Health. The Ministry of Science and Technology also granted him and his partners the patent

11 PlasmaMed machines were placed in big hospitals nationwide such as the he National Hospital of Obstetrics and Gynecology, the National Institute of Burn, the National Children Hospital, the Central Hospital Hue, Cho Ray Hospital, the Medicine University, Trung Vuong Hospital and Gia Dinh Hospital.

10. Five Vietnamese academics have recently been named on the "World's Most Influential Scientific Minds: 2016" list by American multinational media and information firm Thomson Reuters.