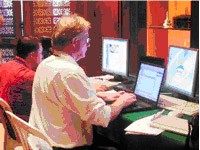 A foreign tourist surfs the Internet at Furama Resort in Da Nang Province
A seminar entitled "Applying IT in the Travel Sector to Meet the Requirements of International Economic Integration" was held by the Vietnam Chamber of Commerce and Industry (VCCI) in Quang Nam Province on 27 September.
The seminar provided a snapshot of IT applications for the travel agencies in recent years, while offering optimized solutions for applying IT within their businesses in order to move into the competitive global market.
Dozens of IT solutions for travel agencies were introduced at the seminar including management software for travel companies, hotel and restaurant management software, and a program by Google Viet Nam applying global marketing for Viet Nam's travel.
"Today, IT application is becoming a necessity for travel companies. Therefore, local enterprises should familiarize themselves with the benefits of IT application, while the use of IT professionals geared toward the travel sector needs the government's support," said chairman of the Tourism Association, Nguyen Phu Duc, at the seminar.
Nearly 200 representatives of travel agencies and officials from central province tourism bodies attended the seminar.