SoftMart 2006 and TechMart 2006 will be held by the Center for Science and Technology Information of Ho Chi Minh City (CESTI) in cooperation with International Data Group (IDG). Many new technologies, effective software programs and hi-tech devices are expected to be introduced and purchased in this year's fair.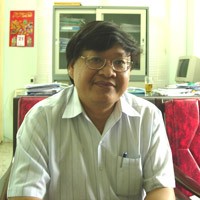 Mr. Nguyen Huu Phep, Deputy Director of CESTI (Photo: T.C.)
"SoftMart and TechMart are annual fairs for businesses to seek out appropriate Information Technology (IT) solution software programs or hi-tech devices. As the management board of the fairs, CESTI hope the fairs will be a great occasion for local businesses to introduce their ICT products to foreigners." said Mr. Nguyen Huu Phep, Deputy Director of CESTI.
Among the foreign software companies, organizations taking part in the fairs, three foreign groups including a Spanish researching on Nano technology, a Singaporean on water waste treatment and a Taiwan on biotechnology will come in search of cooperation and business opportunities.
In addition, a meeting will be held with the attendance of many ICT local and foreign experts, focusing on E-Commerce, E-Administration, Distributed Management and Computerization.
"After the fairs, we will launch a TechOnline website to purchase Vietnamese ICT products and software programs." added Mr Phep.

The registrations for the fairs will officially be kicked off on early April, 2006. Two events are expected to take place in Phu Tho Sport Center in 10th District, Ho Chi Minh City on October, 2006: SoftMart will be from October 20 to 22 and TechMart will be from October 26 to 28.
As scheduled, each fair will have 300 stalls, including 100 foreign ones with more than 1,000 ICT products.