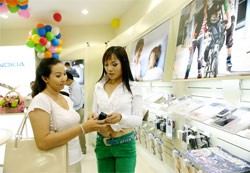 In a hi-tech shop (Photo: Tuong Thuy)
Consumer demand in hi-tech products is increasingly more sophisticated. Therefore, the combination between high technology and fashion is the decisive factor for a product to survive in the hi-tech product market.
For examples, V3 cell phone of Motorola Incorporation is highly in demand because of its luxurious black color and ultra-thin design (13.9 millimeters), and its supremely light weight (95 grams), not to mention its keypad with electroluminescence panel and Bluetooth technology. Users can enjoy MPEG 4 video clips in bright color with a 2.2 inches color display, listen to MP3 music files, and create high quality images or movies with a 4x digital zoom camera.
Meanwhile, NEC Electronics Corporation (Japanese) enters the race with the NEC cell phone of only one centimeter thin in folded form, featuring a 1.9 inches display, a 1.3 Mega pixels camera, and a MP3 player. It is the slimmest phone in the world today.
Not wanting to be left behind, Samsung Incorporation plans to present the super slim cell phone MM-A800 with many modern functions such as capturing TV channels, playing 90 minutes video clips, converting speech to text and scanning business cards.
Besides, the phone can connect directly to a printer to print pictures created by 2 Mega pixels camera; and with a large memory, the MM-A800 can also store a MP3 album.
Recently, the O2 Xda II Mini Pocket PC has won customer confidence with its attractive design and functions: 150 grams weight, 18 millimeters thin. It works as a mobile phone, a computer, a camera, a MP3 player, and many more.
Other Hi-tech Digital Devices
A series of Sony Cyber-shot DSC digital camera is the best-selling hi-tech product in Viet Nam. Sony Cyber-shot T7 is the latest in the T line of ultra-compact digital cameras, the unique features of this amazing little digital camera is that it is only 91.7 millimeters thin, 60.2 millimeters wide, 14.7 millimeters long (9.8 mm at the thinnest part) and 114 grams of weight.
The camera features 5.1 effective megapixel resolutions, ten Scene Selection modes, MPEG-VX fine mode, and Memory Stick PRO Duo™ media card. Sony Cyber-shot T7 is the slimmest, lightest and most modern digital camera in the world at present.
The competition in hi-tech storage devices is also very intense. HandyDrive from Fujitsu Incorporation is an ultra-slim portable 100 Gigabytes laptop hard disk, which is only 15 millimeters thin, 135 millimeters wide, 75 millimeters long and 200 grams weight. It can directly plug into a laptop via the USB 2.0 port and run without power supplies.
On the other hand, Walletex Microelectric Limited (U.S.) has presented the Wallet Flash 1.1. At only 4 millimeters thin and 12 grams weights, this credit card sized USB Flash drive is the world's slimmest USB device.