INext Company from the Poly Technique University in HCMC invented a product allowing doctors in districts quickly contact medical experts through video conference.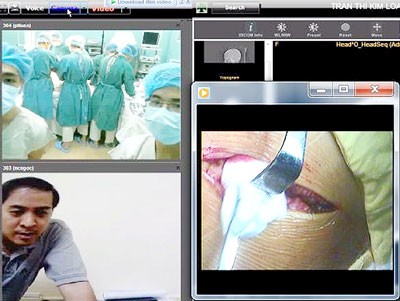 (Photo: SGGP)
The pilot program for the product was at People's Hospital 115. It aided in four difficult operations.
The use of the product was during a hip-replacement operation for an 84-year-old woman. Online operations have linked with hospitals in Ca Mau and Tien Giang provinces. The product was checked by the Department of Science and Technology in March.
Doctors in provinces and districts can easily connect with their counterparts in big hospitals who will guide during difficult operations, said Nguyen Chi Ngoc, lecturer at the university and representative of the INext Company. This is an effective training for doctors in small hospitals.
Older methods of video conferences were used at Cho Ray in HCMC and Viet-Duc and Bach Mai hospitals in Hanoi before this technology was invented. Through the older method, scans and MRIs had to be separately faxed to the hospitals. Doctors are able to share more information with the new method.
The implementation of INEXT's product will give doctors in distant clinics conferences with leading medical experts in big cities, said Dr. Nguyen Dinh Phu, deputy head of People Hospital 115. Many patients are unable to transfer hospitals therefore this method will alleviate that issue.
The Ministry of Health used to ask doctors in central hospitals to go to remote areas to help their colleagues and transfer technologies. Overcrowding in the city hospitals make it hard for doctors to leave. Dr. Phu believes the new product will help increase treatment quality and reduce pressure on big hospitals.
The new product will be used in People's Hospital 115 in late 2014 and then it will be used in hospitals in district 7, 12 and the General Hospital in Ca Mau Province.