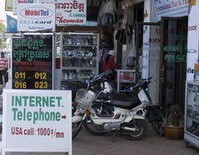 Internet phone shop in Cambodia.
VDC2 (under the Viet Nam Data Communication Company) has signed a contract providing internet service for WICAM CORP Ltd., one of the biggest Internet Service Providers in Cambodia.
The Viet Nam Data Communication Company (VDC) is, accordingly, expected to upgrade internet bandwidth of 4xE1 to 6xE1 in June, 2006 for WICAM Corporation Limited.
Deputy Posts and Telematics Minister of Cambodia, Deputy General Manager of Vietnam Post and Telecommunication Corporation (VNPT) and many officials of both countries attended the signing ceremony.
On the occasion, VDC2 was also contracted to provide high-speed internet with 1xE1 bandwidth for the COGETEL – ONLINE, another big Cambodian ISP. It is anticipated that the internet service will be upgraded to satisfy the market demand.