The Informatics Olympic team of the Polytechnic University of Ho Chi Minh City has won the third prize in the 30th ACM International Collegiate Programming contest for undergraduates in the Pacific Ocean-Asia area held in Iran.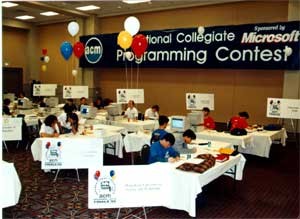 In the ACM programming contest

This was the first Vietnamese team taking part in the worldwide programming contest by the ACM (Association for Computing Machinery), one of the biggest informatics scientific organization in the world. Six thousands teams representing 1,700 universities in 84 countries have competed in the preliminary rounds at 198 sites around the world. The Vietnamese team is one of the eighty finalist teams to advance to the finals in America, April, 2006.