The opening ceremony for the VNPT Group's (Vietnam Post and Telecommunication Corporation) Management Board was held in Ha Noi on March 26, 2006.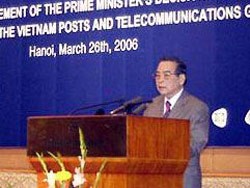 Prime Minister Phan Van Khai states in the ceremony
Currently, VNPT connects 100% of communes to the national telephone network, and 91% of communes are provided with daily newspapers.

The total phone subscriber number has increased 19 times after ten year. During the past ten years, VNPT has paid VND34,000 billion to the national budget.
A significant target of VNPT Group is to become the Viet Nam's leading group of posts and telecommunications, strong enough to reach out to global market.
Prime Minister Phan Van Khai stated in the ceremony: "VNPT needs to quickly set up a legal and financial framework for the economic group and corporations to operate on. The same is required for a smooth separation of post and telecommunication.
VNPT also needs to continue its push for reforms of its business models. Non-essential services, which do not require 100% state ownership, need to be privatized as soon as possible. Based on human resources and material conditions, new services should be developed.

On the other hand, the group has to submit its 5-year development plan for the period of 2006 and 2010 to the government at an early date. VNPT also needs to focus on develop post and telecommunication in remote areas and accomplish the assigned tasks, especially the VINASAT project".