After ten years of internet development, Viet Nam's connection speeds have increased by 7,500 times while internet connection charges remain among the lowest in the world, proclaimed the Ministry of Information and Communications on Nov. 29 in Ha Noi.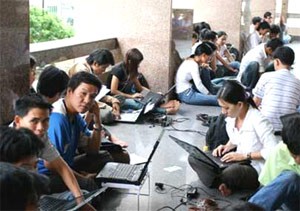 Students use WiFi at the University of Natural Sciences, which was unimaginable ten years ago
According to the ministry, with more than five million subscribers and 18 million users since the first link was established in the country 10 years ago, internet use has mushroomed, reaching the world average level of 21 percent of the country's population.
The year 2003 marked a breakthrough in Viet Nam's internet market with the debut of the hi-speed internet access system, Asymmetric Digital Subscriber Line (ADSL) and decreased service prices.
There are now some 55,000 websites registered under the .vn domain, with the educational, business and healthcare sectors considered the driving forces in internet growth.
Universities and colleges nationwide are now hooked up to the internet, while 92 percent of companies and 50 percent of secondary schools and provincial-level hospitals are also networked.
Many remote, isolated, border and island areas also now have access, and 56 of the country's 64 provinces and cities have launched their own websites.
Keen to cash in on the industry's potential, the Government has developed a plan for the internet and telecommunications sector, targeting annual growth rates double the nation's socio-economic growth rate.
The plan targets 13-15 internet subscribers per 100 persons and usage rates at between 25-35 percent of the total population. Each of the country's key economic regions and 70 percent of communes nationwide would have net access.
The targets also cover the supply of broadband internet services to 100 percent of the country's research institutes, universities and colleges, and high schools, as well as 90 percent of middle schools and provincial-level hospitals.
By the end of the current decade, internet and telecom services nationwide were expected to reap close to US$3.5 billion annually.