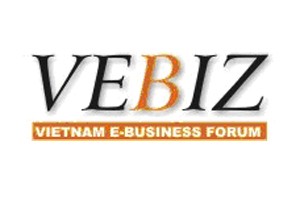 Logo of the Vietnam's E-Business Forum
The conference and exhibition entitled Viet Nam's E-Business Forum is scheduled to take place for the first time in Hanoi on January 17th and 18th of 2007.
The event is organized in cooperation with the Ministry of Trade's Department of E-Commerce and the International Data Group in Viet Nam.
In the progress of international economic integration, e-business is an essential tool in increasing the competitive capacity of enterprises.
It is urgent to identify necessary policies, solutions, and conditions for e-business development, as well as create a suitable e-business framework for Viet Nam.
Raising the public awareness of its potential is crucial. Therefore, encouraging e-commerce application and strengthening cooperation between the government and private enterprises are important to its general development. The event has been created to be a forum for addressing these practical needs.
The event will host dozens of conferences discussing the current situation of Vietnam's e-business framework, policies and laws on e-commerce, the information technology infrastructure, opportunities and challenges, new trends, security and payment systems, and various e-business services.
There will be a separate branch exhibiting IT companies' e-commerce products and solutions as well as the world's latest technological trends and solutions.
It is estimated to incorporate 37 booths from local and international exhibitors, 400 conference attendants and more than 3000 exhibition visitors.
Invited guests include leaders from governmental agencies, internationally leading specialists, and the e-business solutions and services providers of the field.