US-based DOT VN Inc. and Viet Nam's Quang Trung Software City Development Company (QTSC) signed a contract yesterday to build an Internet Data Center (IDC) in Ho Chi Minh City.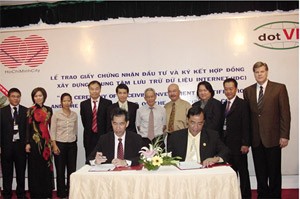 Nguyen Duc Hien (R), deputy director of Quang Trung Software City Development Co., signs the contract with DOT VN's President Lee P.Johnson to build an Internet Data Center in Ho Chi Minh City.
The center, which is the first of its kind in Viet Nam, is to serve the increasing need for servers, archiving and data retrieval, information security and the most advanced technology of foreign companies operating in Viet Nam, state agencies, financial institutions and banks.
The center will also provide internet data/voice/video services and leading edge business and infrastructure applications.
As scheduled, IDC will come into operation in October 2008 to serve 2,500-3,000 host computers during the first construction phase estimated to cost US$6-15 million.
"Strong economic development has helped Vietnam become an ideal place for us to apply the most advanced technological solutions, which have not even been used in the US," said Richard Draper, Managing Director of Cerelink.
"Cerelink is impressed with QTSC and its technology vision. Cerelink and its partners look forward to…the preparation of a technical design for the IDC".
Meanwhile, Thomas M. Johnson, Chairman and CEO of DOT VN Inc. also promised "an advanced commercial IDC in Viet Nam…a state-of-the-art IDC with security, high speed connectivity and reliability at competitive prices".
QTSC is the largest software park in Viet Nam and is one of the key projects in Ho Chi Minh City's development plan. Since 2001, QTSC has developed a successful IT campus occupied by sixty foreign and domestic software/technology companies.