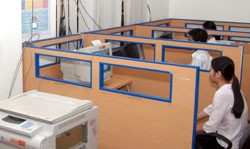 At a software company in Ho Chi Minh City
Viet Nam's software outsourcing resources need to step up to the current potential for IT expansion in Viet Nam and upgrade human resources in order to thrive.
Software outsourcing in Viet Nam has grown more than 50 percent annually over the past three years. However 2005's US$70 million revenue indicates there is still room to grow.
Thus, policies aimed at boosting domestic software outsourcing are needed.
Figures from the Ministry of Post and Telematics indicate that the demand for software outsourcing in developing countries is high.
In 1980, the U.S. and Japanese software outsourcing markets were strong, but in 1990 software outsourcing in India, China and Eastern Europe rose sharply. Now, software outsourcing in Southeast Asia is booming.
A.T.Kearney, a global management consultant firm, ranked Viet Nam 20th out of the 25 most attractive countries for offshore IT services, business processes and call centers.
A.T.Kearney's annual ranking, known as Global Services Location Index, is based on financial structure, human resource quality and availability as well as the overall business environment.
Some local IT outsourcing companies are currently trying to acquire international quality control standards in order to attract more foreign customers.
For example, several companies have obtained the Capability Maturity Model Integration (CMMI) international standard certification and 50 enterprises in this category have been able to set up ISO 9001 quality control so far.
The U.S. remains Viet Nam's key outsourcing market. Recently dozens of Japanese companies including Unico Vietnam, Ichi Corporation, Individual Systems, Aplis Vietnam and Fusione have moved into Viet Nam, promising to expand their software outsourcing in the future.
There were nearly 650 Vietnamese software outsourcing companies with about 20,000 employees in 2005.
But the country's quantity and quality of human resource cannot meet the requirements of big software outsourcing projects. Salary of a Vietnamese software engineer is around US$10,000 a year. And no software outsourcing company in Viet Nam has yet to employ more than 1,000 engineers.
"Viet Nam hungers for big companies to boost up the software industry" said head of the Department of Information Technology Industry Nguyen Anh Tuan.
According to the Chairman of the TMA Solutions Nguyen Huu Le, top names investing in Vietnamese IT such as International Data Group (IDG), Intel and Microsoft have helped spread Viet Nam's IT potential all over the world. If played properly, these contracts could pave the way to even bigger software outsourcing contracts.
Therefore, the quality and quantity of Vietnamese engineers must be improved and the government has to make suitable policies for software industry.
The government should hold international seminars on software outsourcing and help the companies in this sector enter foreign markets.