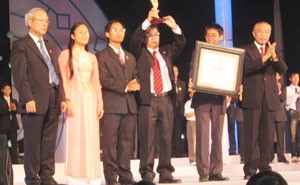 The wining team is honored at the prize giving ceremony.
The Viet Nam's Talent 2006 contest was closed with a prize giving ceremony held yesterday in Giang Vo Exhibition Center in Ha Noi.
Nearly 200 products taking part in this year's contest were streamed into 2 key categories consisting of applicable end-product and already-used end-product.
Ultimately, an applicable end-product named Mr.Test 3.0 selected from 18 products qualified to the final round won the US$6,250 first prize. In addition, there were 1 second prize and 1 third.
For the already-used end-products, there were only 1 second prize worth US$3,125 and 2 thirds worth US$1,875 each. The jury could not select the best product.
The wining software Mr. Test 3.0, made by a group of students from Ha Noi, features a test which can automatically produce the final result by marking on exam papers.
To encourage the competitors, the organization board also offered 8 extra prizes.
Competitors from Ho Chi Minh City showcased their edge over the competition with a second prize of applicable end-product for the Fleet Management System, made by Nextcom team and 2 third prizes of already-used end-product for the automatically marking exam Alpha 2.0 and the Safe Web Browser.
The Viet Nam's Talent 2006 was held by the VNPT Corporation in cooperation with the Viet Nam Study Encouragement Society, sponsored by the Ministry of Posts and Telematics, the Ministry of Science and Technology and the Ministry of Education and Training.