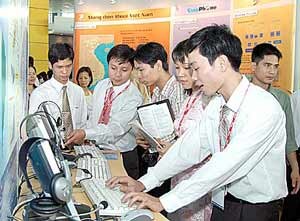 Information technology has developed strongly in Vietnam in recent years
Vietnam has been ranked 92, up from 107 in 2002 on the International Telecommunication Union's (ITU) new Information and Communication Technologies Development Index (IDI).
According to ITU, Vietnam has had strong growth in developing fixed and mobile telephony and Internet. The number of people using mobile phones has risen from two million in 2002 to 24 million in 2007. Meanwhile, the rate of Internet users has risen from 1.8 percent to 20 percent of the population.
In the south-east Asia region, Vietnam ranks behind the Philippines and 29 grades lower than Thailand.
Vietnam is also one of ten countries with the highest rise in level on the IDI.
The IDI compares developments in information and communication technologies in 154 countries over a five-year period from 2002, based on three main norms: ICT access; use and skills, such as households with a computer, the number of Internet users; and literacy levels.