Crowds attending the 2012 International Consumer Electronics Show (CES) in Las Vegas are full of admiration and amazement at a battery operated musical Robot, the latest high-tech toy produced by a Vietnam based manufacturer, introduced for the first time on January 12 at CES.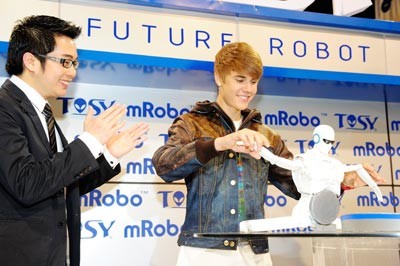 Teenage pop star Justin Bieber and Ho Vinh Hoang, Founder and CEO of TOSY Robotics present mRobo at the CES.
The brand new entertainment robot was introduced to the public by teenage heart throb Justin Bieber at the TOSY Robotics display booth, the first ever Vietnamese robot firm.
The one-of-a-kind gadget is designed like a high quality portable loudspeaker. When the music begins to play, the gadget comes alive and transforms into a full-body dancing robot with his signature moves. The mRobo looks like a teenage boy dressed in white clothes.
TOSY Robotics is the only representative of Vietnam at the CES, the world's largest consumer technology tradeshow. This year the event is being held from January 10-13 in Las Vegas.