Ho Chi Minh City has been late to apply bio-fuel to low-price public means of transport though the energy has already proved money-saving and environmentally friendly.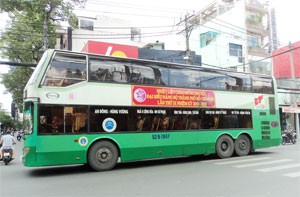 Ho Chi Minh City has been late to apply biogas for its public means of transport though the energy has been experimented successfully (Photo: Minh Tri)
Biogas E5, a low ethanol blend, and other energies such as liquidized petroleum gas (LPG) and compressed natural gas (CNG) have been experimented at taxi cabs and public buses in the city.
But the country's southern traffic center has yet to put the energies in use for large scales.
In 2004, Petrolimex set up a group of 150 taxi cabs fueled with LPG and a filling station at the city's major roundabout Hang Xanh.
UP Gas Company at the same time invested in an LPG station at Tan Son Nhat International Airport and transferred nearly 300 taxi cabs based at the airport from running with diesel to running liquidized gas.
Cuu Long Petrol and Transport JSC during the period of 2008 and 2009 also started to run 350 taxi cabs on LPG.
Meanwhile, a lot of dilapidated public buses, whose fares are much lower than taxi cabs', are still polluting the environment as the city failed to carry out it plans to replace them with those running on the clean energies.
The city has planned to run 50 public buses with CNG to save around 30 percent of fuel and protect the environment. But the plan is still on hold as the buses have not arrived in Vietnam yet.
Le Trung Tinh, head of the Road Transport Management Office at HCMC Transport Department, said that the late arrival has sabotaged a city's plan to run 21 public buses of Saigon Passenger Bus Company with CNG from August 16 this year.
The same situation happened to HCMC Public Bus Cooperative as 29 public buses it planned to run on CNG are still in South Korea.
Ethanol fuel mixtures such as E5 and E10 have been proved usable for different means of transport for saving energy and reducing gas emission, so as LPG and CNG.
At a recent conference about using clean energies in HCMC, experts from HCMC Energy Conservation Center said that the city can save VND26 billion (US$1.25 million) of fuel cost every day if each car use one liter less of fuel and each motorbike 0.25 liter.
Nguyen Khac Thanh, deputy director of the city Department of Science and Technology, also said that the transport department can help save up to 30 percent of energy if the city manages to apply the bio-fuel.
Duong Hong Thanh, deputy director of HCMC Department of Transport, said at the conference that the city needs more investment in both private and public means of transport, transferring them for biogas use, in order to save energy.