The HCMC Center for Reishi and Medicinal Mushrooms Research has successfully grown the Thuong Hoang mushroom which has active elements that can help treat cancers, especially in the breast, liver, and stomach.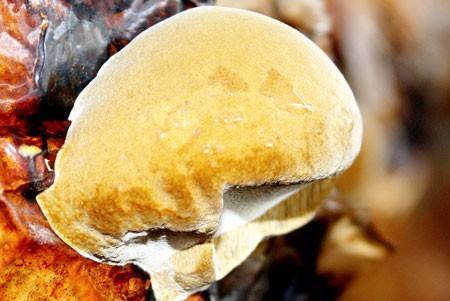 A Phellinus linteus mushroom. A HCMC research center has managed to grow this rare mushroom which has anti-tumor properties
Co Duc Trong, chairman of the project to grow the mushroom in the city said that Phellinus linteus has been used in traditional medicine for a long time.
This mushroom is of particular interest to researchers around the world because of its tumor-prevention properties.
It only grows deep in the forest and high up in mountains and can live for tens of years.
The total global output productivity of the mushroom is just around 30 tons a year, mainly from natural sources.
Only four countries have managed to farm it -- Korea, China, Japan, and Thailand. With demand being high, a kilogram costs VND4 to 10 million (US$228 to 571) and there are a lot of fakes. In Vietnam, it fetches VND4 million.
Since 2006 the center has successfully grown phellinus in sawdust made from rubber trees instead of in tree trunks like the countries do. It has so far produced around 140 kilogram, Mr.Trong said.
This process protects the mushrooms from diseases and they are cleaner and more uniform.
It can be grown for export and for selling to drug companies, he added.