The Cuu Long Delta Rice Research Institute harvested 32 Fujiura melons from 16 vines, the largest fruit weighed 10 kilograms.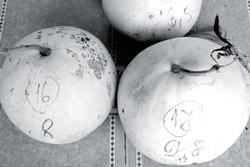 Fujiura melons, they are numbered in order of harvesting with the weight of the melon below. (Photo: SGGP)
The institute sowed 20 vines but three died. After cropping, melons would be primarily processed by using machines to whittle the covers and pulp the fibers. The fibers would then be exposed to the sun on two occasions.
In future, if the Institute can improve the melons, they will provide seeds for farmers to grow and export to Japan.
Duong Dinh, responsible for plant structure at the Institute, said that they named this melon Fujiura after the Japanese company that provided the Institute with the seed. Fujiura also instructed them how to sow and take care of the plant.
This melon creeps over the ground and is like a long gourd but the shape is round. It is grown in Japan, where they process the fruit into many foods.