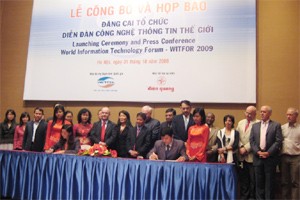 Press Conference for announcing of WITFOR 2009 . VNA
Vietnam
will host the next World Information Technology Forum themed "IT for Sustainable Development" in Hanoi next year.
The Ministry of Information and Communication has announced that the forum will take place from August 26 to 28, 2009.
WITFOR 2009 will welcome as many as 1,200 to 1,500 leaders, IT experts and delegates from over 100 countries worldwide.
It will be the most important event that will push Viet Nam as one of the most attractive countries for investment cooperation in IT.
WITFOR will contribute to taking the World Summit on the Information Society's (WSIS) Plan of Action a step forward, and to helping developing countries achieve the UN Millennium Development Goals, its organizers say.