Among the 100 young Vietnamese professionals who participated in the Vietnam Innovation Network launching event, Dr. Vu Duy Thuc – Co-founder cum CEO of OhmniLabs, a company specialized in manufacturing telepresence robots in the Silicon Valley of the US – has attracted much attention from other attendants.

Being one of the inventors of Home robots and the only Vietnamese person to be ranked in the top-40 under 40 years old and with most impressive achievements in 2017 by Silicon Valley Business Journal, a prestigious business magazine in the US.
When he was young, Vu Duy Thuc gained various national awards in the field of information technology (IT) in both Vietnam and the US.
In his higher education time in Carnegie Mellon University, he published several studies in international scientific journals before graduating with the perfect score of 4/4, besides winning the 'Best Student' title by the Computing Research Association (CRA) in the US.
In 2010, 28-year-old Vu Duy Thuc obtained his doctorate degree in IT, majoring artificial intelligence (AI), from Stanford University.
Dr. Thuc is well-known as a person who can achieve not only academic but also business successes when he was the co-founder of two other companies, namely Katango and Tappy, both of which were later bought by technological giants of Google and Weeby.co.
Realizing that robots are well developed for industrial and military purposes yet not in civil use, he decided to let OhmniLabs focus more on the latter direction.
Being an expert in AI and algorithm, his innovative idea was a robot that can fulfill household tasks and remotely interact with people. Only one year after the establishment of OhmniLabs, in 2015, the first version of Ohmni – a Home robot that can connect users to relatives via video chat – was born.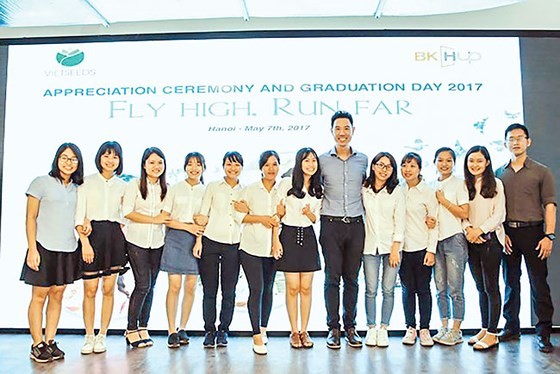 Vu Duy Thuc presents scholarships to Vietnamese students (Photo: SGGP)
This cutting edge invention let users experience true interactions with relatives who live far away and erase the feeling of talking through an electronic device like a tablet or computer. Thanks to Ohmni, video chats can be made or received automatically. The robot can also go side by side with its users to the cinema or for a leisure walk just like a real friend does.
With an ambition to create a breakthrough in robot designing, at the moment, his company is researching software and hardware conditions for an open library system to become the base for the public to create new robots with the lowest expense.
The open platform Kambria based on Blockchain technology is also founded in the hope that other scientists can save time and cost in producing robots. He also wants to offer services for the task of manufacturing robots.
Dr. Vu Duy Thuc, along with his two products – Ohmni and Kambria - is now striving to enter the increasingly strong market of AI and Robotics that is affecting many fields like industry, commerce, health care, and education.
Dr. Thuc is the investor of several startup companies while maintaining the cooperation with different universities in Vietnam to foster the construction of new training programs, laboratories, research centers for robot creation. He hopes via the use of Kambria to connect domestic students of the field to international researchers, especially those from developed nations.
He also tries to link local research centers with major technological enterprises and leading global universities to create the best environment for the development of robots in Vietnam. For instance, he is introducing famous training programs on AI by famous organizations like Stanford University or Google to Vietnamese talented engineers.
Dr. Vu Duy Thuc is holding various activities to connect the Vietnamese AI community to Silicon Valley, including the Scholarship Fund VietSeeds, which has run for the past 7 years to give scholarships to more than 200 students, each of which is worth $4,000.