Vietnamese-made industrial robots shocked international visitors of an international exhibition Automatics 2010 due to their inexpensive price.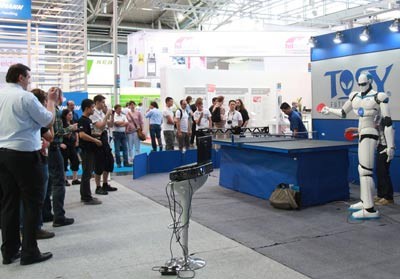 Visitors come to see Vietnamese-made robots displayed at the exhibition (Photo: Courtesy of TOSY)
The TOSY Robotics Joint-Stock Company, the first Vietnamese robotics firm, brought 12 industrial and service robots to the Automatica 2010, the first international trade fair to bring together all segments of the robotics and automation divisions under one roof, as an independent event, in New Munich Trade Fair Center, Germany.
The industrial robots include five parallel robots, three scara robots and two Arm Robots (with 6 degrees of freedom), which are multipurpose machines intended to replace human workers in functions such as: welding, painting, assembly, packing, moving materials and loading pallets. While Parallel Robot  are high speed robots specially designed to pick up objects from fast-moving conveyor belts.
TOSY'S robots surprised the fair's 35 visitors; Vietnam is not well known for its high-tech industries, spending just one-fourth that of other nations.
TOSY's director Ho Vinh Hoang said his products have impressed counterparts who come from high-technology nations like Japan, Germany and the United States because of its high effectiveness made available at low prices.
Under the effects of the global economic downturn, a series of industrial factories had to cut expenditures and workforces to reduce prices. Seven partners from Japan, the United States, Poland and Germany wanted to become distributors for TOSY's robots at the exhibition, said Hoang.
Previously, TOSY had sent TOPIO 3.0 and its latest models of industrial robots to the International Robot Exhibition (IREX 2009) from November 25 to November 28, 2009, at the international exhibition, Tokyo Big Sight, Japan.