The Energy Conservation Center under the Department of Science and Technology in Ho Chi Minh City is working with a Japanese partner to manufacture cheap, energy-saving and environment-friendly electric motorcycles for Vietnam.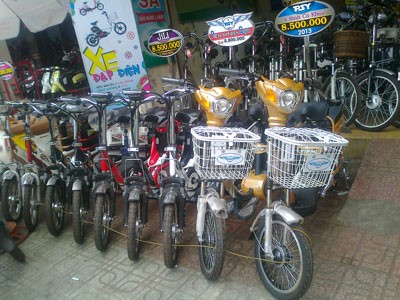 Chinese electric motorbikes in Quang Phuong shop in Hong Bang Street  in district 5 have received lukewarm response from customers ( Photo: U.Phuong)
These environment-friendly electric motorcycles will be launched in the market and it is hoped they will receive a warm response from Vietnamese customers.
After a six month pilot experiment in the City, the project to manufacture electric motorcycles in the country proved feasible as it can save more than 90 percent energy.
The project will use the Bilateral Offset Credit Mechanism (BOCM) and will be a joint venture between the Energy Conservation Center and Mitsubishi, Terra Motors and Myclimate Japan.
Mechanical experts of both the countries have calculated the advantages and disadvantages of petrol versus electric motorcycles. Petrol motorbikes consume one liter of petrol in 40 kilometers or VND544.7 per kilometer and pollute the environment with 2.297 kilogram of CO2 per liter; while electric motorcycles consume energy at an average 29 kilometer per kWh and exhume 0.5764 CO2.
Accordingly, electric motorcycles discharge 75 percent of CO2 less than normal vehicles on petrol. If people use the electric motorcycle they can save more than US$210 a year.
However, Vietnamese experts said it is not easy to launch electric motorbikes in the country, as for years now customers have shown indifferent behavior towards such vehicles, including cheap Chinese-made electric motorbikes.
New electric vehicles have an initial high cost of VND15 million ($719.5), which is too high for many people, said engineer Diep The Cuong from the Energy Conservation Center.
At present, the new electric motorcycle will be manufactured in a factory in the Mekong delta province of Long An with capacity to produce 1,000 vehicles per month and expected to hit the market this September.
Accordingly, the Energy Conservation Center said media should help broadcast its usefulness to people. In the beginning, most of the 1,000 vehicles will be distributed to staff members of departments, which will pave the way to encourage more people in Ho Chi Minh City to use electric motorbikes in future.