The Ho Chi Minh City Computer Association on July 14 granted 32 gold medals and 34 Top ICT Vietnam Cups to information and communications technology (ICT) companies in recognition of their contributions to the development of the sector.
The awards highlight the fact that the growth of local ICT firms remains strong, at 25 percent, the same as last year, despite the current global economic recession.
The annual TOP ICT award is a good measure of how the market feels about Vietnam's ICT businesses, reflecting customer approval of the quality of a company's products and services, according to Chu Tien Dung, chairman of the association.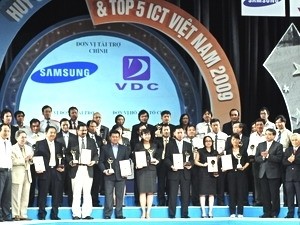 The award winners get their titles in Ho Chi Minh City July 14 (Photo: VNA)
All companies operating in the ICT industry in Vietnam, including foreign ones selling products in the country, are candidates, he said at the award ceremony in HCM City.
The top 5 ICT companies, apart from telecoms, earned revenues of almost VND21.5 trillion (US$1.2 billion), accounting for 67 percent of the sector's total earnings.
FPT Elead, CMS, Robo, Mekong Green and Sing PC were five leading computer producers, which made up more than 50 percent of the manufacturing sector's revenue.
Besides bestowing the Top ICT Retailer and Top ICT Software awards, the organizers granted two new honors, Top ICT Digital Content and Top ICT Integration.