Sales of businesses in information technology last year reached VND330 trillion (US$16.5 billion), an equivalent of around 10 percent of the gross domestic product (GDP), said Nguyen Minh Son, head of the Ministry of Science and Technology's department of planning and finance.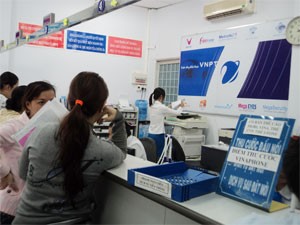 Internet users pay their bill at an office of the state-owned telecom giant VNPT in Ho Chi Minh City (Photo:Minh Tri)
Of the amount, telecommunication companies were the biggest earners, with a total revenue of about VND200 trillion. Following were hardware firms with sales of around $7 billion, software developers and digital companies with revenue of $2 billion.
Statistics from the Ministry of Science and Technology show despite the surging growth rate that is around three-fold higher than the GDP, Vietnam's information-technology sector remains fledging, with most companies having poor competitiveness, low output and limited capability of approaching advanced technologies.
The electronic and hardware sectors still focus on assembling, with the localization rate and the value added ratio amounting to about 10 percent of their total revenue, according to the ministry.
"Foreign digital content companies doing businesses in Vietnam are having many advantages. Local enterprises, meanwhile, found themselves grapple to compete with overseas competitors since they are being shackled by series of mechanisms and policies," said Le Hong Minh, general director of the software developer VNG.
"The government should encourage local investors to be more willing to invest in the information technology sector by preferential policies, such as tax exemption."
Vietnam's two telecom giants including state-owned VNPT and military-owned Viettel said they could cover 85 percent of the residential area nationwide by 2015, with mobile signals and broadband services, and 95 percent by 2020.
Nguyen Manh Hung, deputy general director of Viettel, said costs of Vietnam's broadband services were among the world's lowest rate in the last ten years.
Hung added that Viettel forayed into five foreign markets with the total population of 90 million people and planned to enter two more this month. Viettel earned around $5 billion from those key markets in 2010 and expected to raise the revenue to $15 billion by 2020.
Most of local information-technology firms suggested the government should set up explicit orientations towards the development of Vietnam's digital content industry.
Information technology industry is expected to be among Vietnam's leading economic sector by 2020, contributing up to 8-10 percent of GDP and putting the Southeast Asian country into top 10 software developers around the world.
More and more global software companies are setting up shop in Vietnam - a positive trend for the country's information technology (IT) sector, industry insiders say.
On May 11, German-based Bosch Group, a leading global supplier of IT services, opened a center focusing on embedded software and mechanical engineering services in Ho Chi Minh City, according to Thanh Nien Newspaper.