Vietnam's information technology (IT) industry still lags behind progressive countries in the region as it has yet to satisfy regional advanced standards.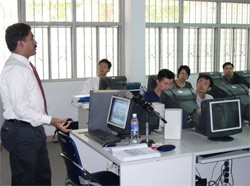 Students in a class at an IT training center
The statement was made at a meeting hold on November 5 by the Ministry of Information and Communications to review implementation of the instruction No. 58-CT/TW issued by the Political Bureau in 2000 about boosting development and application of IT to industrialization and modernization.
 
Participants at the meeting said the sector has yet to meet some targets set by the Political Bureau. It has not become an important motive force of the country's socioeconomic development.
 
They said the IT application hasn't helped to change people's way of working, and created advantages for enterprises and residents.
 
The participants agreed that after ten years of the implementation, the IT industry has achieved remarkable progress, and made contributions to industrialization, modernization and administrative reform.
 
The information and communication technology sector's turnovers have reached US$13 billion, accounting for 11 percent of the country's GDP.
 
IT has become one of key economic sector of the national economy, and one of seven sectors recording high export turnovers.
 
IT human resources have developed strongly in terms of quantity and quality.