With the agreement on the Montreal Protocol and financial support from "Hydro-chlorofluorocarbons Phase-out Management Plan", Vietnam is encouraging the companies using other eco-friendly compounds in their production instead of HCFC to protect ozone layer.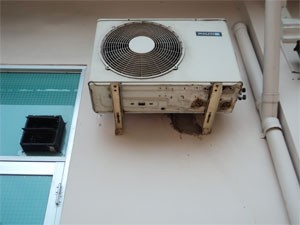 Air-conditioners need HCFC and HFC elimination (Photo:Vu Minh)
Since adhering to the Montreal Protocol on Substances That Deplete the Ozone Layer, Vietnam has eliminated 500 tons of chlorofluorocarbon or CFC in use every year, according to Nguyen Khac Hieu, Deputy Director of Department of Meteorology, Hydrology and Climate Change - Ministry of Natural Resources and Environment.
From 2010, members of the Montreal Protocol unanimously agreed on the elimination of hydro-chlorofluorocarbons or HCFC and hydro-fluorocarbons or HFC used in air-conditioners, frozen systems in cold storage of seafood and production of heatproof foam rubber.
It is not easy for Vietnam to carry out this plan because the demand of machines and systems in daily life and manufacturing using HCFC becomes more popular and increase everyday. If the replacement for these things is put forward, a considerable amount of money, about US$ 30 million needs to be paid and time needed for this process is 20 years. 
In annual conference for ASEAN network of ozone officers, many enterprises were skeptical about the uneconomical substitute with eco-friendly compounds because their high cost can influence the product price.
If a company is forced to alternatively use hydro-carbon, for example, they must encounter lots of difficulty in changing their production line, workshop design and worker's knowledge on the production process.
As Luong Duc Khoa, head coordinator of "the Protection of the Ozone Layer" program in Vietnam said, Vietnam will step-by-step rule out the use of HCFC in production. The Multilateral Fund of World Bank approved of the Hydro-chlorofluorocarbons Phase-out Management Plan from Vietnam in the period of 2012 and 2016 with a US$ 10-million-fund with no reimbursement charges.
From the plan, the support will be given to the companies producing heatproof foam rubber on the purpose of HCFC elimination.
12 over 70 companies specializing in heatproof foam rubber are assisted in changing their overall production line which makes use of extracted HCFC -141b into a system using eco-friendly compounds and destroying the whole current system.
Ministry of Natural Resources and Environment is also recommending the local authorities not to license any other companies using HCFC in their production. This action aims at forcing all the companies to completely count out HCFC in their production line. 
From now, the companies employing HCFC in manufacturing are advised to change their current production as soon as possible or they will not receive any financial aids in their environmentally friendly alteration.