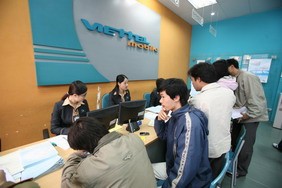 Viettel Corporation
Viettel Corporation has become the first Vietnamese company providing telecommunication service to Cambodia. It focuses on long-term development and investment in this neighboring country.
Viettel Cambodia Pte Ltd. Company, under Viettel Corporation, has just been licensed to set up network and to provide long-distance call services by the Ministry of Posts and Telecommunications of the Kingdom of Cambodia (MPTC).
Viettel has decided to invest US$1 million in setting up the network. As scheduled, Viettel Cambodia Company will be licensed to build an international portal between Viet Nam and Cambodia and the GSM network in June, 2006.
"By building the infrastructure providing multi-services throughout Cambodia, Viettel aims at long-term investment in the country," said Mr. Nguyen Manh Hung, deputy general manager of Viettel Corporation.