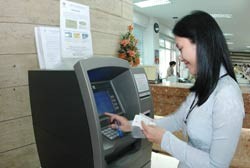 A MobiFone pre-paid subscriber charges her account via ATM machine.
VinaPhone, MobiFone pre-paid subscribers will be able to charge their cell phone accounts via ATM machines nationwide from July this year.
Initially, the service is expected to be set up in ATM machines of Incombank, and then in other banks nationwide.
Pre-paid subscribers will be provided with codes to activate their account via ATM, instead of buying scratch cards. Earlier, MobiFone subscribers can pay their cell phone bills via ATM machine, and the service is developed rapidly in Ho Chi Minh City.
The providers hope that by the end of 2006, customers can directly recharge their account via ATM, instead of using codes provided with scratch card to recharge on their cell phone.