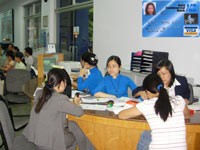 Clients are learning about Visa creadit card (Photo: T.C.)
Visa Asia Pacific, under the Visa Incorporation, has warned their clients to be vigilant with the unidentified emails.

When cardholders access the links in those emails, their computers will be hacked for information including bank account and PIN numbers.
Visa has successfully detected and prevented twenty phishings from January 30, 2006 up to now.

If you are suspecting your account information is being hacked, you should report to the bank by calling 08.8236350 in Viet Nam.


Phishing means sending an e-mail that falsely claims to be from a particular enterprise (like your bank) and asking for sensitive financial information.

Phishing is sending out a 'bait' in the form of a spoofed e-mail that closely mimics most bank notifications.

The fraudulent mail is socially engineered to convince recipients to divulge sensitive information such as credit card numbers, PIN, social security numbers and some such information