Vietnam is hoping to boost its renewable energy production, especially wind and solar energy, to more than 10.7 per cent of total generation by 2030, up from the previously planned 6 per cent.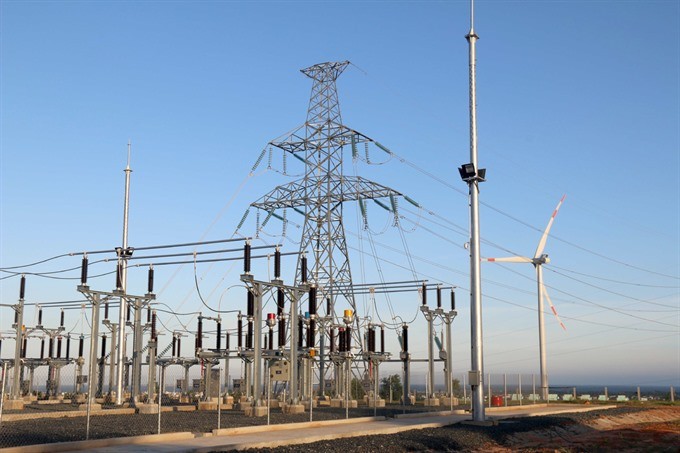 The Phu Lac Wind Power Plant in Binh Thuan Province. — VNA/VNS Photo Nguyen Thanh
It plans to increase the rate to at least 7 per cent by 2020, up from the previous target of 4.5 per cent.

The country now relies heavily on electricity from coal and hydropower.
Under the 2014-20 National Action Plan on Green Growth, it aims to switch gradually to renewables, including wind power, solar energy, tidal energy, geothermal energy and bio-fuels as a solution to global warming.

Speaking at a wind energy workshop in HCM City yesterday, Pham Trong Thuc, director of the General Directorate of Energy's renewable energy department, said there are now three wind farms with a combined capacity of just 150MW.

There is huge potential for wind power, he added.
Early last month Vietnam signed a US$2.2 billion deal with an Irish energy firm to build and operate three more wind farms with a total capacity of 940MW.

They include a $2 billion, 800MW facility in the Mekong) Delta province of Soc Trang, whose first phase will be completed in 2018.

The other two will be set up in the south-central province of Binh Thuan at a cost of $200 million, with the first phase again completed in 2018.

Steve Sawyer, secretary general of the Global Wind Energy Council, said wind power now accounts for around 4 per cent of total global energy production.
"The figure is expected to increase to 6-8 per cent by 2020, 18-20 per cent by 2030 and a fifth of total consumption by 2050."
He stressed the need to shift to renewables to reduce greenhouse gas emissions.

Vietnam's electricity demand is expected to continue to grow by 13 per cent a year in the next five years due to its rapid economic growth, which has averaged above 5 per cent since 1999.
Thuc of the renewable energy department said the country is putting efforts to generate enough power for economic growth while gradually shifting towards clean and low-carbon energy.

Denmark's ambassador to Vietnam, Charlotte Laursen, said, "We aim to share unique technical, policy and financing solutions for the wind energy sector drawing on Danish and Vietnamese best practices."

For several decades Denmark has been achieving economic growth without increasing energy consumption while at the same time reducing CO2 emissions, she said.

It was among the first countries in the world to pursue a strategy to build an energy system independent of fossil fuels, she said.

"We were the first country to install wind turbines more than 30 years ago and we have been a first mover in the wind industry for decades."

For many years Vietnam has been working closely together with Denmark in the energy sector under the Danida Development program.

It is blessed with some of the best wind resources in Southeast Asia, and the aim is for wind to represent more than 2 per cent of electricity production by 2030.

The Danish embassy held a similar workshop in Hanoi on November 29.