HA NOI (VNS) — Viet Nam needs to provide adequate salaries for young scientists in order to keep them motivated and develop the next generation of researchers, said Director of the Institute of Materials Science Nguyen Quang Liem at a workshop this week.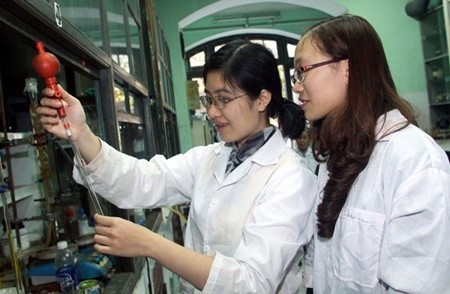 Students at a laboratory at Ha Noi University of Science. Viet Nam needs to provide adequate salaries for young scientists in order to keep them motivated, an official said at a workshop this week. – VNA/VNS Photo Bich Ngoc
"Only when scientific professionals are guaranteed adequate living standards will high school students choose to pursue a career in science and technology," Liem said.
Each year, the Institute of Environmental Technology welcomed three to five professionals with PhDs obtained overseas.
Yet they were only allowed to work on a contract basis, as permanent employee quotas were limited. This made it difficult for the institute to retain young professionals, said director Nguyen Hoai Chau.
"I am deeply saddened to find that many talented and dedicated young scientists are not enjoying favourable treatment," Chau said. "Viet Nam needs to have a special treatment policy in place for people who return from education overseas."
He also highlighted an ironic fact: while the quota for permanent employees allotted to research institutes remains limited, the institutes receive many large-scale scientific research assignments.
The Institute of Environmental Technology was assigned by the State to research technological solutions to environmental issues, a heavy responsibility.
Yet 12 years after its establishment in 2002, the institute is still allowed only 52 permanent staff members. Because only permanent employees were allowed to supervise research assignments, those on contract could not take leadership roles no matter how qualified they were.
"Our institute has employees who have reached 40 years of age and have been working here for 15 years but still cannot become permanent employees because of the limited quota," the director said.
Financial mechanisms are also outdated. Scientists are only permitted to carry out one research assignment per year, hindering their creative potential.
Professor Chau Van Minh, chairman of the Viet Nam Academy of Science and Technology, acknowledged that there was a serious shortage of young scientific and technological researchers.
Viet Nam had a total of 2,400 professors with only about 1,000 working actively. In comparison, a single university in South Korea could have up to 950 professors.
Minister of Science and Technology Nguyen Quan said that while doctors, teachers and other public employees enjoyed State-specified allowances, the Government had not implemented such a mechanism for engineers and others involved in scientific research.
As for the lack of favourable treatment for talented people, especially experts returning from overseas, this was a problem that could not be solved overnight, he said.
Viet Nam needed 90,000 scientists and researchers to satisfy demand in the developing field, according to the National Strategy for Scientific and Technological Development.
However, this figure remained insignificant in comparison with regional countries such as Thailand, Malaysia and Singapore, which have six or seven scientific and research professionals for every 1,000 people, Liem of the Institute of Materials Science pointed out.
He also called into question the Ministry of Science and Technology claim that there were around 70,000 scientific professionals in Viet Nam, as even the Viet Nam Academy of Science and Technology, the largest centre for scientific and technological research in the country, had barely 2,000 staff members.
Moreover, most of the large environment-related investment projects in Viet Nam were assigned to international partners because domestic institutes capable of such research could not take on the projects due to financial and human resources shortages.
Last year, the Institute of Environmental Technology received huge assignments on both local and central levels worth dozens of billions of dong, yet the budget for research and wages offered to the institute was only VND4.2 billion (US$200,000), director Chau said.