Two Vietnamese teams excellently won the second and third prize at WhiteHat Grand Prix 2016, reported BKAV Internet Security Group on December 20.
The first prize went to Taiwan (China) team with total value of VND 225 million (around US$ 10,000). The second and third prize respectively cost VND 45 million (around US$ 2,000) and 25 million (around US$ 1,000).
This is the second time that the Southeast Asian country has held the cyber security contest at international scale from December 17- 18, attracting a participation of over 500 teams from 52 countries and territories.
The international cyber security contest was held in 2014 for the first time at the national level, and then it was launched globally in 2015.
Under topic of this year's contest being "Discovering Vietnam", the participants had an opportunity to enjoy Vietnamese delicious dishes such Pho (a Vietnamese noodle soup), Banh Xeo (Ban Cake), Bun Bo Hue (Vietnamese Beef Noodle Soup) etc etc…
Vice chairman of Bkav's network security Ngo Tuan Anh shared that WhiteHat Grand Prix 2016 was prepared six months ago with a support of nearly 100 network security and technological professors.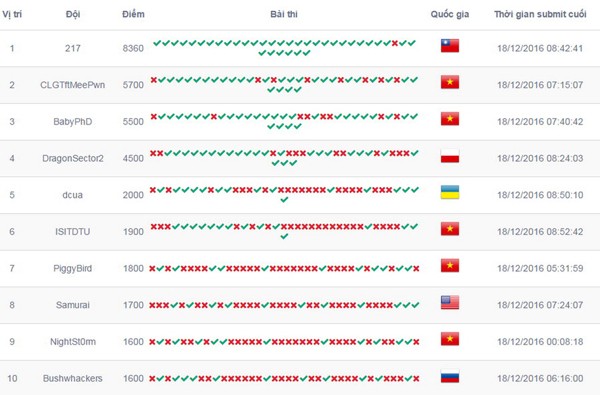 Ranking table of WhiteHat Grand Prix 2016