The Vietnam Posts and Telecommunications Group (VNPT) and telecommunications companies of ASEAN countries have just signed a preliminary agreement on building a trans-oceanic broad-band cable system connecting Southeast Asia to the U.S.
The new undersea cable – dubbed the Asia-America Gateway – will run from Malaysia to Hong Kong, the Philippines, Guam, Hawaii and the U.S. Branches will also connect Singapore, Thailand, Brunei and Viet Nam.

The cable system will span 20,000 kilometers and use the latest Dense Wavelength Division Multiplexing (DWDM) technology with a minimum design capacity of about 1.28 terabytes.

Construction works are expected to start by early next year with plan for the system to be ready by 2008.
Telekom Malaysia will lead the consortium building the cable, which includes AiTi (Bruneit), CAT Telekom (Thailand), PLDT (the Philipines), REACH (Hong Kong), StarHub (Singapore) and VNPT (Viet Nam).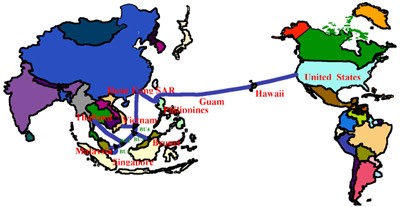 Diagram of the Asia – America Gateway Cable System.
According to the consortium, the system will mitigate the existing cable capacity shortfall to the U.S. and be able to meet the higher bandwidth requirements from internet users in the region.

After the signing ceremony, Telecom Malaysia Wholesale's chief operating officer Datuk Baharum Salleh said, "This cable system is specially designed to support the burgeoning demand for voice, Internet Protocol/date and video traffic between Southeast Asia and the U.S."

The project has the potential to be a gateway to other location in Northeast and Southeast Asia, India, Australia, Africa and Europe as it is designed to provide a high degree of interconnectivity with existing and planned high bandwidth systems, added Mr. Salleh.