The Vietnam Post and Telecommunications Group (VNPT) on Sept. 28 officially launched its MyTV service, which uses IPTV- base technology (Internet Protocol Television).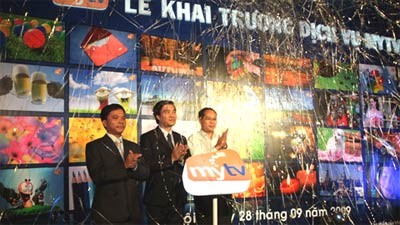 At the launch of MyTV, an internet TV service which uses IPTV-base technology
TV signals are changed to IP signals and then transmitted through VNPT's ADSL network to the STB (set-top-box) subscriber's terminal.
MyTV is able to provide many services including TV and radio broadcasts and especially on demand services such as music videos, TV, games, karaoke, and advertising.
MyTV subscribers also have access to telephone and internet services as well as shopping channels.
At first the MyTV service will be available to subscribers in the major cities of Hanoi , Da Nang and Ho Chi Minh City . VNPT will expand the service nationwide in October.
Speaking at the launching ceremony in Hanoi , VNPT's Chairman of the Board of Directors Pham Long Tran stated that the launch of this new service illustrates the efforts VNPT is making to diversify services for its customers.
He forecast that with the strong development of broadband internet networks and the high demand for entertainment, the MyTV service would "boom" in Vietnam in the near future.
First established in 2006, VNPT has become the country's largest post and telecoms operator, taking up to 70 percent of the country's telecoms market.
As of August, VNPT had 62.4 million telephone subscribers, including 50.6 million mobile phone users.