Although Vietnam has a treasure of abundant and diverse sources of pharmaceutical materials, including nearly 4,000 herbal plants, the country's pharmaceutical industry currently depends on material imported from China to make up medicines. To exploit its own resources, it is necessary for Vietnam to boost investments in hi-tech extraction technologies.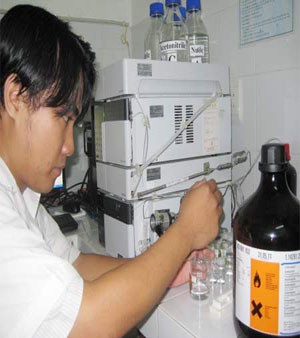 A technician determines the quality of active element 10 DAB III and Taxol from Taxaceae via chromatography analysis (Photo: SGGP)
Latest statistical reports from the Drug Administration of Vietnam indicated that in 2008, locally-produced medicines meet just 50.18 percent of demand, with eighty percent of materials for the production of medicine imported from foreign countries, mainly from China.

Pharmacist Nguyen Tien Hung, chairman of the Board of Directors of the Vietnam Medical Products Import - Export Company (Vimedimex) blamed the situation for the fact that Vietnam has not yet made adequate investment in modern separation and extraction technologies to exploit medicinal plants.

Reality shows that extraction technology of medicinal plants in the country is still underdeveloped. At present, Vietnam does not have any large hi-tech extraction plants. Most oriental medicine businesses build small scale plants, which are suitable for their own production demand.

The main extraction method employed in such plants is just intended for concentrating glues at normal pressure. Extraction plants built in areas where herbal plants are grown as materials, if any, are also small, equipped with rudimentary machines and equipment. Such plants are only used for producing one or two kinds of glues.

Thanks to the growing tendency among consumers to use herbal remedies, a number of oriental medicine businesses have begun to invest in modern plants equipped with controllable heat extraction technology.

No matter how modern they are, such plants cannot produce high-quality medicinal medicines that can compete with imported products because they are still falling short in extraction processes.

Mr Hung pointed out that last year, Prime Minister Nguyen Tan Dung approved a project to boost the development of the pharmaceutical industry and build a drug distribution system for the stages 2007 - 2015 and 2016-2020.

The PM also issued two decisions to stimulate the investment in plants to extract active elements from pharmaceutical materials, but no company has gained benefits from these policies.

It is really a loss for the country because if Vietnam can exploit the resources of medicinal plants appropriately, it can earn millions of US dollars each year.

Cited as an example, Mr Hung said that in 1980s Dr. B. Gluzin, deputy director of Medicinal Plant Research Institute of the Russian Ministry of Agriculture, and his fellow-workers came to work in Vietnam and found a large volume of mangiferin (an anti-oxidant agent) contained in mango leaves. This kind of mango leaf extract is used for making medicines that cures shingles.

Based on the discovery, Russia decided to partially transfer the extraction technology to Vimedimex and placed an order, under which Vimedimex would supply mangiferin in the form of crude material to Russia.

In 1998, Vietnam exported mangiferin with a purity of between 75 and 78 percent for the first time. In 2002, Sovipharm Joint -Venture (now BV Pharma) was established and Russia decided to transfer the entire extraction technology to Vietnam.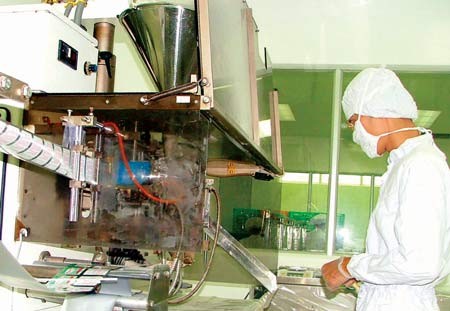 Hi-tech extraction technologies will help Vietnam produce hi-quality medicines that can compete with imported products (Photo: SGGP)
At present, BV Pharma can produce mangiferin with a purity of 98 and 100 percent. The volume of material and medicines in the form of finished products exported to Russia is worth $1 million a year.

But it is not merely mango leaves, Vietnam has hundreds of kinds of medicinal plants with high contents of precious active elements. For example, Taxol is found in Taxaceae; Rurin and Troxerutin in Sophora japonica L. and Curcumin and Quercetin in Curcuma.

Pharmacist Tran Hung, head of Department of Pharmaceutical Materials of the HCMC University of Medical and Pharmacy, said that to boost the development of the pharmaceutical industry and improve the production capacity of specific medicines, Vietnam has no choice but to stimulate investment in high-tech extraction technologies.

To do so, it is necessary for the Government to have policies to encourage simultaneous investment in material growing areas, high technology and training.

Since businesses feel hesitant to invest in hi-tech extraction technologies, as they require large investment capital, Mr Hung said that the Government should also issue macro policies related to financial funding and tax incentives to encourage investors.