The DDoS attacks causing network paralysis and system crash appearing in the early June tend to taper off but the administrators of Vietnamese websites or even internet users are advised to be highly cautious of the new and serious attacks to potentially come about.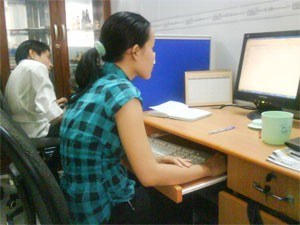 Employees at a HCMC-based company surf Internet. Many .vn websites suffer from the DDoS attacks (Photo:Minh Tri)
As Vu Quoc Khanh said, President of the Vietnam Computer Emergency Response Team (VNCERT), Vietnam Ministry of Posts and Telematics, despite the decrease in attacks named distributed denial-of-service or DDoS to the important .vn websites, the administrators should be on the high alert for these attacks and regularly check the system if they expect to be immune from new attack waves.  
Nguyen Minh Duc, Director of BKAV Internet Security Department shared the same ideas with Quoc Khanh on the decrease of DDoS attacks.
Duc, however, also warned that there could possibly be more silent but dangerous attacks targeting more important websites and everyone should be well-prepared for that. 
According to the statistics of BKAV, on the first 13 days of June, there are about 249 .vn websites, among them are 51 websites with the domain name .gov.vn, to be set upon.
Minh Duc also suggested that internet users themselves should be also extremely aware of and turn away to the unusual or strange e-mails or links.