Over 80 percent of websites in Viet Nam are vulnerable to attack by hackers and viruses, according to the Bach Khoa Internetwork Security Center of the Ha Noi University of Technology.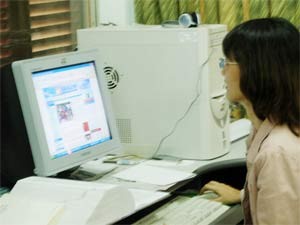 Over 3.1 million computers in Viet Nam are infected with viruses in February (Photo: T.Hang)

This was announced at the Security World 2008 Conference held yesterday in Ha Noi with the theme, "Raising public awareness of internet security to improve its efficiency".

The conference was organized by the General Technical Department of the Ministry of Public Security, the Viet Nam Computer Emergency Response Teams and the International Data Group in Viet Nam.

Over 33 million computers were infected by viruses last year with total damages estimated at VND2.4 billion (US$150,000). Viruses and malware can also be found in mobile technical devices like cell phones.

In January this year, a notorious virus named "gaixinh" made its appearance in 30,000 computers. In the following month, over 3.1 million computers were infected with 1,000 other newly-made viruses.

The most recent virus discovered in the country is named "Tran Quan Hy," the Vietnamese name of Hong Kong actor Edison Chen. Chen is at the center of a scandal involving racy photos. The virus soon claimed 1,000 victims.

This year is the year for a "red alert" concerning Internet security, Mr. Nguyen Viet The, Head of the Information Technology Department of the Ministry of Public Security said.

The widespread use of computer viruses not only causes economic loss, but also serves as an illegal means to obtain money from others. Some companies use viruses to destroy their rivals' websites and computer networks, he added.