More than 10,000 players have registered for the World Cyber Games (WCG) 2006 during the first ten days since it was launched. It shows that the Vietnamese gamers are so excited with the world's biggest e-sport competition. The WCG Committee has selected Monza (Italy) to be the host city and Samsung to be the official sponsor.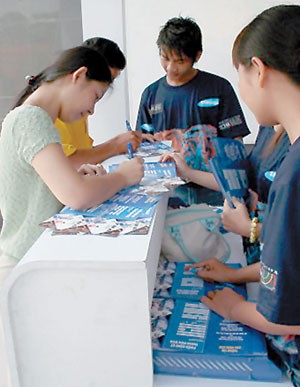 Gamers register for Viet Nam WCG-2006

The Vietnamese WCG-2006 Preliminary officially started from June 1, 2006. A team of best gamers will be selected to take part in the Grand Final to be held in December 2006 in Monza.

It is a chance for the Vietnamese gamers to meet and exchange ideas with top participants from 70 countries and territories.

The group stage will be held in four big cities of Ha Noi, Ho Chi Minh, Da Nang and Can Tho. The national finals will take place in August 4, 5 and 8 in Phan Dinh Phung Sport Hall (Ho Chi Minh City) with three traditional games, including FIFA Soccer 2006, Starcraft and Warcraft 3 (among eight official games of WCG-2006).
This is the fifth WCG to be held in Viet Nam, and it is warmly welcomed by the public, with more than 10,000 registration forms of students. Registration deadline is June 22, so game-lovers can register at game services and computer shops nation-wide. They can also fill in the form and download games available at the official website vn.worldcybergames.com or http://www.samsung.com/vn/index.asp.

This year, Samsung VINA Electronics is the organizer of WCG Viet Nam once again. Mr. Sang Youl Eom, Director General of Samsung VINA said: "WCG is attracting more and more gamers and countries. We're so glad to contribute to that success. WCG was, is and will be the biggest and most attractive world's e-sport tournament. It is indeed a world cultural festival, which has no language or cultural barriers. WCG gives young Vietnameses a chance to enjoy healthy entertainment and satisfy their passions for sport and adventure..."